Bring Movies to Life with MartinLogan Architectural Speakers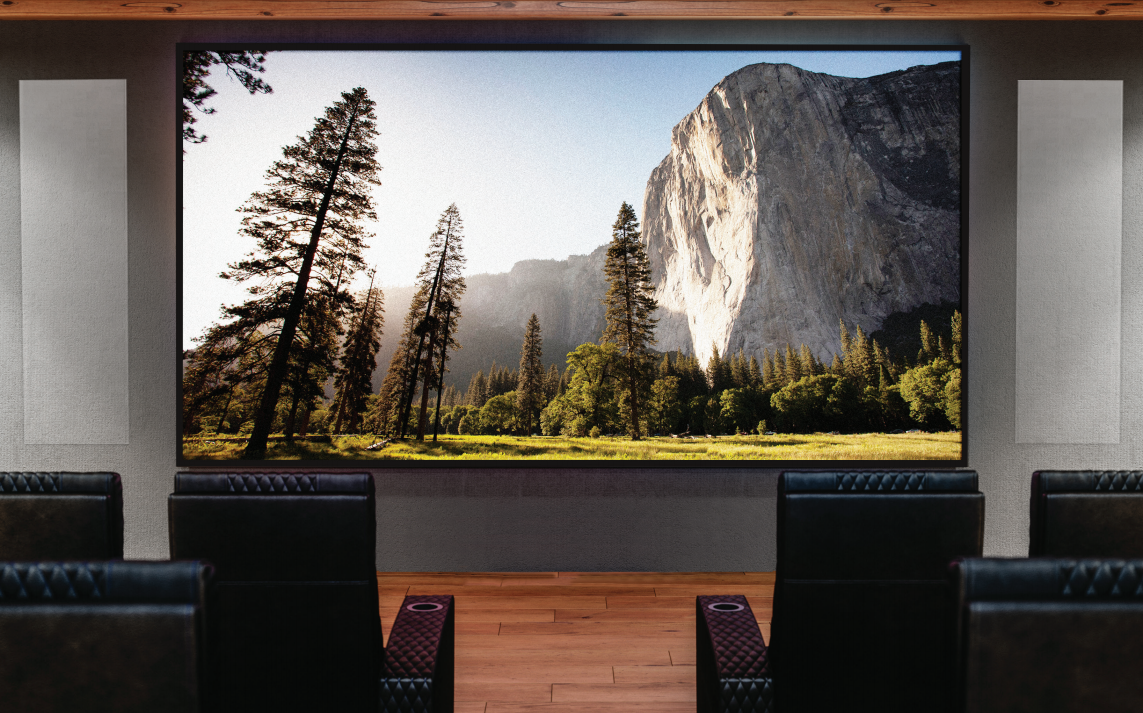 SEE ALSO: Want the Ultimate Home Theater Experience? Start with Design
The Pinnacle of Architectural Loudspeaker Design
If you've experienced MartinLogan's most ambitious floorstanding hybrid electrostatic loudspeakers, then you likely have a high benchmark for audio performance. Fortunately, you can experience that same level of accuracy and impact from an in-wall speaker when you choose the Masterpiece CI (custom install) speaker series from MartinLogan. The Masterpiece CI series is a tribute to the acoustic innovations of their iconic electrostatic speakers that put MartinLogan on the map.
The Masterpiece CI Statement 40XW in-wall loudspeaker is a testament to this achievement. With 16 tweeters, 16 midrange drivers, and eight woofers arrayed in a line-source design, the Statement 40XW delivers jaw-dropping levels of full-spectrum output even in the largest listening areas.
Its superior components and innovative design eliminate most of a room's performance-destroying sound reflections, resulting in highly accurate and distortion-free sound. Enjoy a broad, enveloping soundstage with lifelike rendering of the most subtle audio details in all your favorite movies.
High-Performance Speakers for Any Application
If the $45,000/pair cost of the Statement 40XW loudspeakers doesn't fit your budget, you have plenty of other high-quality options from MartinLogan that are more attainably priced. Continuing with the top-tier Masterpiece CI series, consider the Monument 7XW or Tribute 5XW loudspeakers, which are constructed from audiophile-grade components and feature MartinLogan's flagship technologies.
MartinLogan's ElectroMotion architectural speaker series is noted as a benchmark in loudspeaker price versus performance. This series features MartinLogan's signature Folded Motion technology, which gives their tweeters a much larger surface area than traditional dome tweeters of the same size, as well as requires much less excursion. The result is vanishingly low distortion and clear, precise sound.
We've just scratched the surface of MartinLogan's architectural speaker offerings. To find the best solution for your planned use, environment, and budget, Avidia is your local certified MartinLogan dealer that can guide you every step of the way.
Impressively Discreet Installation
MartinLogan architectural speakers vanish into your walls and ceilings to keep eyes on the movie when your display is on—and on your décor when the display is off. Their low-profile, micro-perforated grilles present a clean, near-invisible aesthetic and can be painted to match the colors of your surfaces.
Whether you choose the monumental 52-inch tall Statement 40XW or a more compact loudspeaker model from MartinLogan, your speakers will be housed neatly within your walls and ceilings to offer you more floor space without compromising the three-dimensional sonic performance you desire for your home theater.
Avidia is proud to be your local leader in home theater design, installation, and control. Whether you're planning a new build or undergoing a renovation, our team can help you create your ideal entertainment oasis featuring top-tier AV solutions that fit your budget. Let's get started! Call Avidia at (847) 868-9200 or use the live chat box below to speak with us today.